Silicone hose: Variety to pass through
Customized solutions for every application - Silicone hoses & Silicone foam hoses
As an established German manufacturer with excellent expertise, we serve the highest demands for hoses made of silicone elastomers. In top quality and conforming to approvals for a wide range of applications: in the food or pharmaceutical industry, medical technology, water and sanitary supply and more.

Our extrusion lines can produce hoses for you with almost any desired cross-section in almost any shape.
In-house compounding allows us to make specific quality variations according to customer requirements: Shore hardness from 12°, highly biocompatible via platinum addition crosslinking or vulcanized with organic peroxides, in the desired RAL color and other parameters for special requirements.
If required, we can individualize and finish the extrudate for you in a final finishing process. Tell us your requirements and let us advise you. Here is an initial overview of our range:
Features and range of variation of our standard hoses:
| | |
| --- | --- |
| Inside diameter | 0.5mm – 160mm |
| Wall thickness | 0.25mm – 50mm |
| Outside diameter | 0.8mm – 200mm |
| Shore Hardness A | 30° – 90° |
| Colour | Any RAL color |
| Curing agent | Platinum and Peroxide |
Addition (platinum catalysis) or peroxidic
You need more special properties? We also realize such specifications for you: higher mechanical and/or thermal load capacity, special shapes, defined colors.
In these areas, we can define the physicochemical properties for your silicone hose:
Hardness
12° to 90° Shore
Colour
Each RAL colour and colour setting according to customer specifications
Thermal resistance
-100°C to +300°C
Tear propagation resistance
16 kN/m to 45 kN/m
Elongation at tear
200% to 1.000%
Each RAL colour and colour setting according to customer specifications
Food industry: suitable silicone and silicone foam hoses
Heat- and chemical-resistant for the food-processing process chain, food-safe for consumers: our durable hoses (also foamed, more below) for this sensitive industry meet all of the following specifications, guidelines and regulations:
For drinking water and sanitary applications, we have special silicone hose products, compliant with these standards:
Silicone hose for pharmaceutical industry, medical technology & Co.
In human applications, the strictest specifications must be met. Just as in the pharmaceutical industry or biotechnology: sterilizable, biocompatible and non-toxic, resistant to various extreme stresses, minimal dimensional tolerances. Our high quality silicone rubber hoses guarantee you compliance with:
Fabrication of silicone hoses
Do you need prefabricated goods? Defined cuts, closed seals, external printing for clear assignment, special adhesive properties? We assemble hose products immediately after extrusion, for example: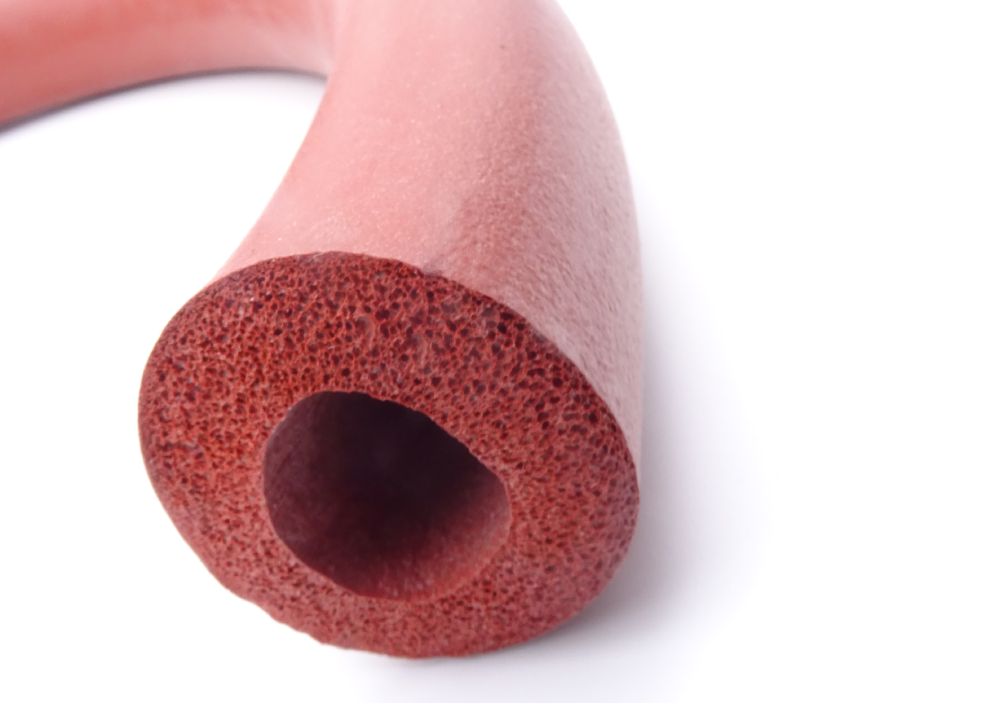 Silicone foam hoses: in technical NON-FDA or physiologically safe FDA quality
Our silicone rubber as a closed-cell foam hose offers you the following advantages as sealants in addition to its insulating and insulating properties:
We dose the special blowing agent differently depending on the type of foam required. We will be happy to assist you with the selection according to your needs. And we also manufacture products with a protective top layer.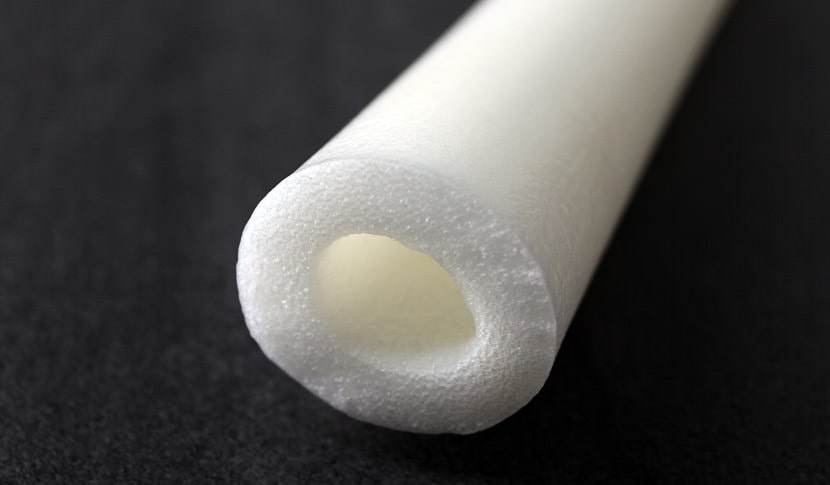 Foam hose with cover layer
| | |
| --- | --- |
| Inside diameter | 2mm – 80mm |
| Outside diameter | 2mm – 30mm |
| Shore Hardness A | 5° – 30° |
| Density g/cm3 | 0,25 – 0,65 |
Are you interested in our products or a question? Then contact us now.